Disney's Caribbean Beach Resort 2002
Guest Rooms
---
In 2001 all of the guest rooms at Caribbean Beach were refurbished. Here are what the new rooms look like. Not shown in these pictures is the addition of a privacy curtain between the sink area and the rest of the room. The curtain is tan with a tone-on-tone leaf design. When anyone other than a couple is sharing a room, the privacy curtain is a wonderful, useful addition.
The rooms at CBR are 340 square feet and are the largest rooms of all the moderate resorts. They are the same size as the rooms at Wilderness Lodge and Animal Kingdom Lodge, which are deluxe resorts.
There are 2 double beds in each room at CBR. There are some rooms with one king-sized bed. I noticed some "hidden Mickeys" on the bedspreads. They are yellow and a little difficult to see in the pic below!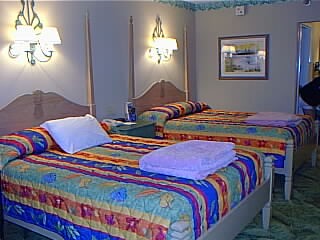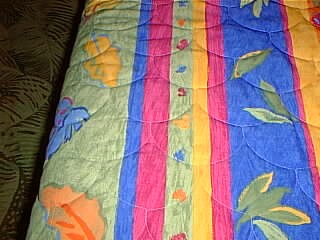 I like the addition of the shelf with pegs, as you can see in the picture below. Also, now the benches have a large drawer beneath them. Inside the big green hutch is a 27" tv and several drawers. The rooms have 4 rain ponchos and 4 refillable mugs on the table. If you open them you will be charged on your resort bill. In 2002 they cost $9.99 (+tax) each, the ponchos were about $5 each.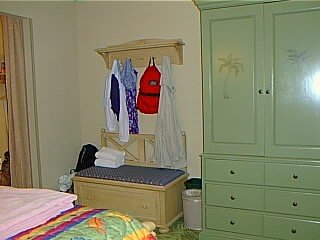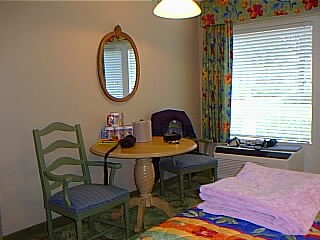 They removed the old doors from the storage space below the sinks and this makes access to your toiletries much easier. The shower curtain has hidden Mickeys too! To the right of the double sinks is a storage area with a large wide shelf and bar with several hangers. There is a coffee maker on the shelf as well as Styrofoam cups and coffee packets. There is a charge to use the packets, so you might want to pack your own instant coffee, sugar, creamer, etc.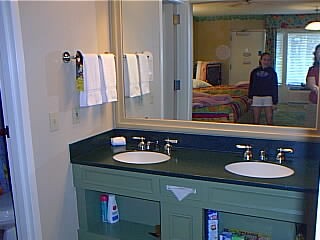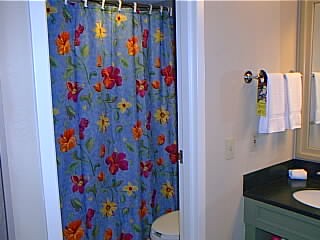 If you'd like housekeeping to make up your room early in the day (or late), call and let them know. I walked past one of their carts and saw that they had a checklist with notes next to some of the room numbers. Comments such as "Young children, please clean room early" or "Late sleepers, housekeeping not wanted, please leave clean towels outside door".