The main pool has a Spanish pirate's fort theme and is really quite pretty with it's ivy covered walls and castle/fort look! This pool has a slide and water cannons that shoot a stream of water into the pool at regular intervals. There's a waterfall effect at one of the pool that is especially pretty when lit up at night. This is also where the resort's hot tub is. All of the pools are heated.
This first picture was taken at night, I love the blue/violet effect! I am standing at the far end of the main pool, near the waterfall, looking back to the slide, and you can see the bridge that goes across the pool, too. The hot tub is immediately to the left of the slide.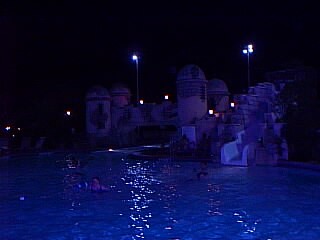 This is the kiddie pool which is next to the main pool. It's designed to look similar to the main pool. It's also nice to sit on the edge with your feet in the water if you don't want to get all wet.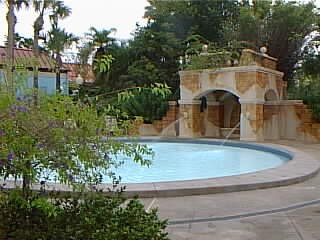 I took these next 3 pictures while walking over the bridge that runs over the main pool. You get a nice view from up there!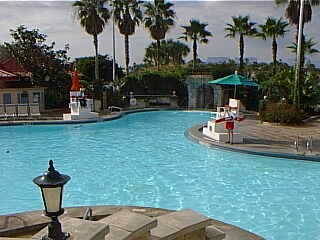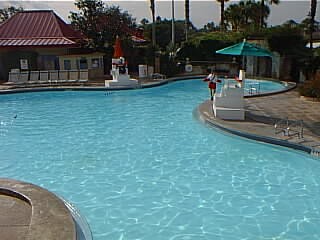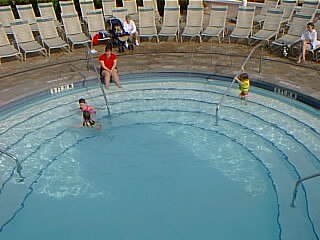 This was also taken while I was on the bridge over the pool, looking out towards the lake.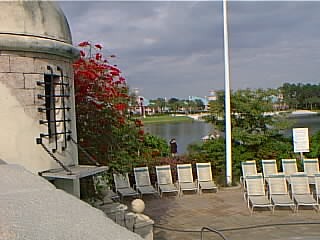 This is the "water fountain" in the courtyard between the food court and the main pool and lake. I think the flowers look really nice and will look even nicer once it gets covered with more blooms.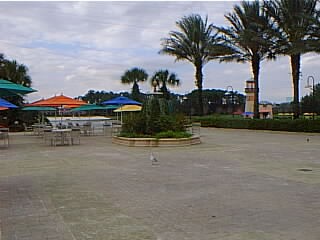 This is one end of the main pool, at night. Its hard to see in this picture but there is a waterfall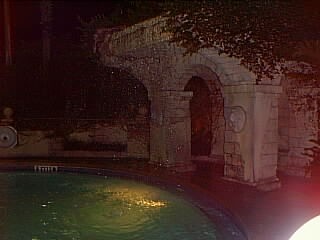 This is looking towards the pool, as you walk across the bridge from Parrot Cay island. I love how the ivy has grown up the walls, this resort really is beautiful if you have a little time to explore :)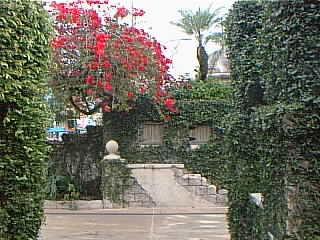 I LOVE the attention to detail on all of Disney property and there is no lack of detail at CBR! These sea shell impressions are all around the main pool, along a foot-wide path around the pool's edge. They are very decorative and probably make the cement a little more slip-proof too.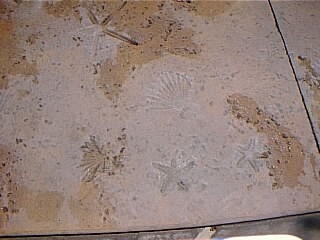 Here is what the quiet pool at Jamaica looks like. All of the quiet pools look pretty much the same except for the color scheme. Each quiet pool is coordinated with it's village's colors.