Caribbean Beach Food Court
---
The complex that contains the food court, restaurant, arcade, and gift shops is called Old Port Royale. Below is a picture of the entrance we used each day. This entrance faces the lake and is closest to Martinique. There are other entrances from the parking lot and the main pool area as well.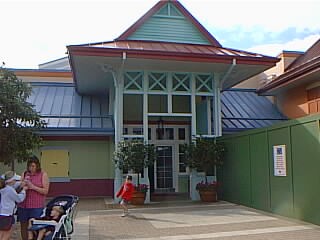 The interior of the food court resembles an outdoor marketplace. There are 4 or 5 different counters to buy food from. The breakfasts include waffles, pancakes, eggs, omelets, bacon, sausage, ham, muffins, oatmeal, cold cereal, as well as items from the bakery. Lunches include individual pizza or large pizza, ham or turkey wraps, hamburgers, cheeseburgers, grilled chicken sandwiches, hot cheese steak sandwiches, cold subs including tuna salad, chicken salad and various lunch meats. Dinner choices also include rotisserie chicken and pasta dishes.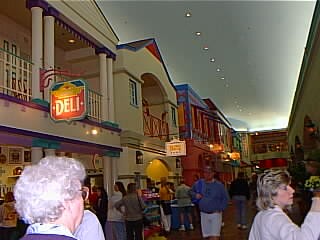 There is an information board inside OPR. Each day's park hours are listed. You can mail letters or postcards right from OPR. I noticed at least 2 of these cute mailboxes.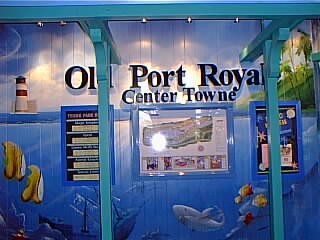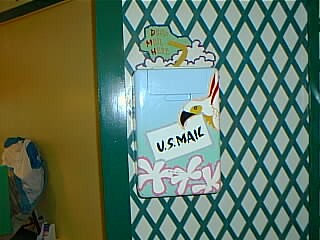 The Calypso Trading Post has a lot of Walt Disney World logo merchandise as well as milk, beer, wine, and items such as Tylenol, toothbrushes, antacids, and other things you'd find in a small pharmacy.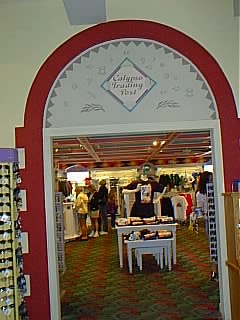 The Straw Market is themed to the resort and carried a wide selection of Caribbean Beach logo items such as the picture frames, mugs, glasses, and other items pictured below. There are also t-shirts, polo shirts, bathing suit cover-ups, beach towels, and key chains all with the CBR logo.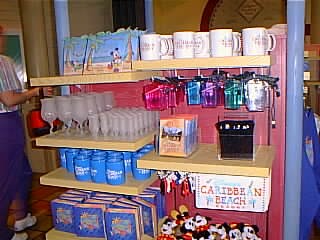 The full service restaurant inside OPR is called the Captain's Tavern. I haven't eaten here myself but I have read conflicting reviews on it. The more recent reviews are much better than the older ones I read. **The NEW full service restaurant at CBR is called "Shutters" and I've read lots of great reviews about it!**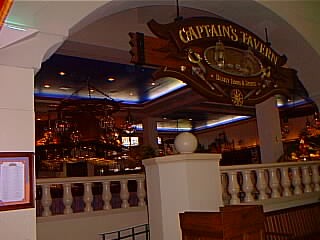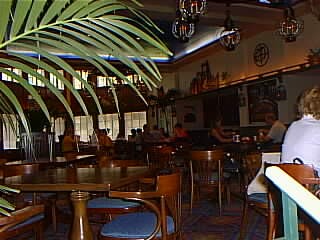 Here are a few pictures of the food court's seating area and the beverage island. The beverages I remember seeing are Coke, diet Coke, Sprite, Mr Pibb (similar to DrPepper), HiC Pink Lemonade, unsweetened Nestea iced tea, raspberry flavored Nestea iced tea, Mello Yello, and regular lemonade. They also have tea bags available if you want to make your own iced tea or hot tea. They have coffee all day, regular and decaf.
The refillable mugs have characters from The Little Mermaid and you can get the lid and handle in many different colors. This helps when you have a family and everyone wants to identify their own mug! You can see the mugs in the pictures here, and I'll try to take a close-up picture of one and add it here.