VILLAIN'S DINNER
One of our most favorite character meals was dinner at 1900 Park Fare at the Grand Floridian. The food was great but what made this memorable was the interaction between the characters and Craig and Robby. This was called the "Villain's Dinner" because it featured many of the bad guys from Disney movies. On this night we saw Cruella DeVille, Capt Hook, Prince John, Governor Radcliffe and the Queen of Hearts. Both Capt Hook and Prince John kidded around a lot with Craig and Robby, trying to steal their food and smooshing a cupcake in Craig's face (with our permission, I have to add!). The characters saw that my kids were enjoying this and really got into their characters, but when they see a kid who doesn't enjoy this kind of interaction, they won't do it. Some smaller kids were afraid so the characters kept their distance and only waved to them. (Unfortunately they have now changed the characters from the Villains to Pooh and friends).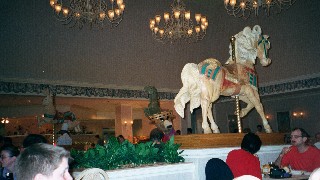 Quite a drama played our during our meal...read below! ;}
Robby made a wise crack to Hook...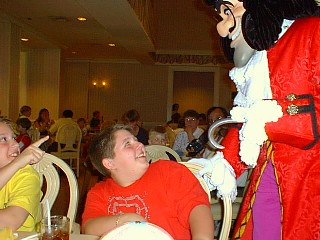 ...so like any good villain, he attacks! And he refuses to sign Robby's autograph book!!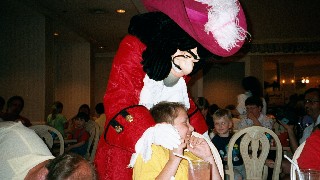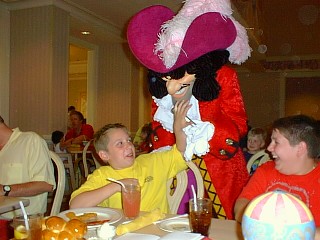 Prince John seems friendly enough at first....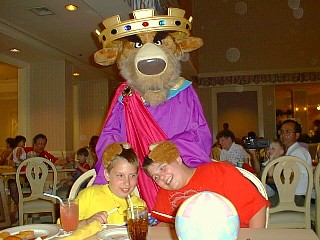 then uses Robby's head as a table...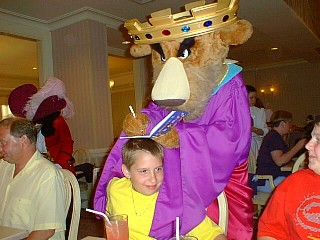 ...but he's a crafty fellow and walks off with Craig's food!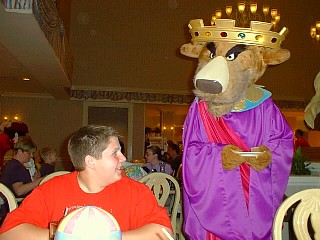 Robby wisely protects his food from him....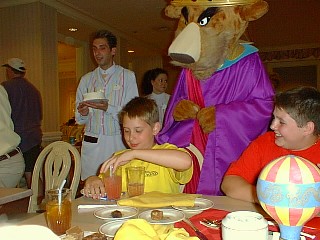 but he comes up empty handed!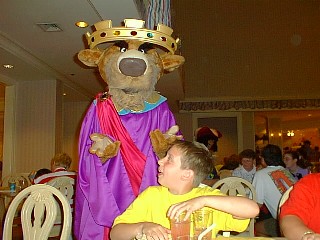 He's sly.... Prince John doesn't give up so easily and continues trying to steal!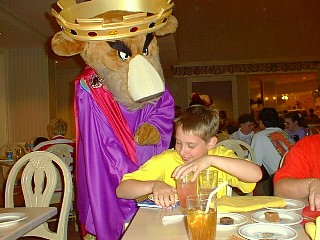 Capt Hook wandered over again and saw Craig's cupcake...he picked it up and pretended he was going to smoosh it in Craig's face. He looked at us and we told Hook to go for it!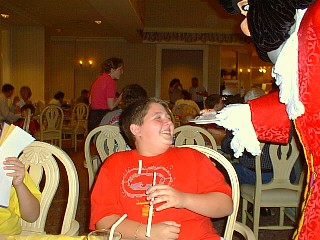 This isn't quite the reaction Hook expected! Craig thought it was funny!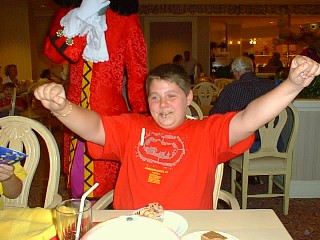 Here is Cruella DeVille in the lobby of the restaurant...notice those long fingers, and what you can't see are her long, pointed shoes!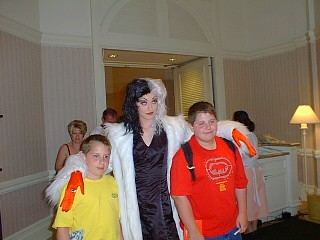 Governor Radcliffe was funny, constantly waving his hand and "dismissing" everyone.
And here is the lovely Queen of Hearts. I didn't get a picture of this, but twice she came over to us and rubbed John's head! :D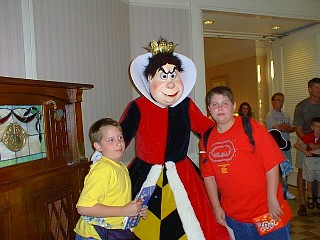 Finally in the end Hook came back to our table and signed Robby's autograph book.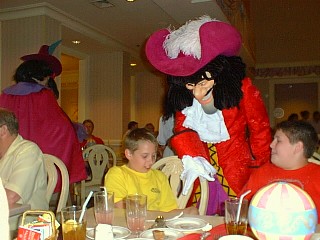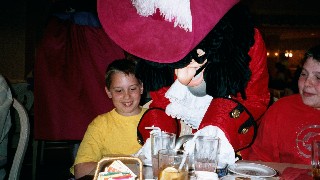 AFTERNOON TEA
Afternoon Tea at the Garden View Lounge at the Grand Floridian was a lot of fun. The Garden View Lounge was very bright and airy, with fresh flowers on the table and a wonderful selection of teas, tea sandwiches, and pastries. Our server was very helpful and informative and showed us the proper way to brew tea. The scones with raspberry jam and Devonshire cream were out of this world!